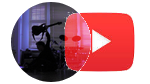 I can offer this work also
as creative or technical
support for video
and audio on request
for other artists.

All Audio in my
YouTube-Channel
is recorded with cheap
integrated microphones.

It is possible to do this
with my professional tools
(like I do with
tontechnik.wrochem.de)

In case of my own works
its easier for me
to keep the
technical part simple
when I just
want to make music.